DEBI'S WELCOME
Welcome to Shearwater Journeys, the oldest pelagic birding company offering seabirding trips off California's central coast. Since 1976 more than 67,000 birders and marine enthusiasts have joined our trips from every state in the USA and more than 30 countries worldwide. We offer the most comprehensive selection of pelagic trips in the entire USA. The combination of deep water canyons close to shore makes this region one of the world's premiere seabirding hot spots. Offering the highest ratio of leadership in the business, we are second to none. Many of our leaders have been with Shearwater Journeys for several decades and have worldwide experience with seabirds.
Our signature Monterey Bay trips have been the backbone of seabirding in North America, producing many "first" records. A few of the rare for North America, or California records have included: Short-tailed, Salvin's, White-capped, and Chatham Albatrosses: Great-winged, White-chinned, Murphy's, Hawaiian, Cook's, and Bulwer's Petrels; Streaked, Cory's, and Greater Sherwaters; Wedge-rumped Storm-Petrel; Red-billed and Red-tailed Tropicbirds; Northern Gannet; Brown, Masked, Blue-footed, Red-footed, and Nazca Boobies; Great Frigatebird; Long-billed Murrelet; Crested and Parakeet Auklets. Our twelve-hour Albacore Grounds trip departing from Monterey also sells out every year. Book early! Without a doubt, the marine mammal show, especially at Monterey Bay is one of the most spectacular in the entire world!
The LAST YEAR— Yes, it is true— after 44 years of offering pelagic trips, I am retiring! The fall season of 2019 will be my last one at sea. I gratefully acknowledge the thousands of birders who have joined me, and the hundreds of leaders who have worked so diligently to bring the marine world alive to so many birders. I hope you will join me this season, the last one.
RESERVATIONS: Payment, in full by check or money order will secure your booking. Please include the name, home address, phone/email of each person in your party as required by the USCG. For reservations outside of the USA, please contact Debi. Send reservations to: Debi Shearwater, PO Box 190, Hollister, CA 95024. Email: debi@shearwaterjourneys.com. Please see our web site for more information and updates. PLEASE NOTE: Debi will be working in the Russian Far East from June 16 through July 13th, and will not have access to email for much of that time. You are encouraged to send reservations in during the time she is away. Your reservation will be acknowledged after July 15th. Looking forward to birding at sea with you in our 44th and final year offshore! — Debi Shearwater
SHEARWATER JOURNEYS, INC.
PO BOX 190, HOLLISTER, CA 95024
http://shearwaterjourneys.blogspot.com
debi@shearwaterjourneys.com
831.637.8527
Monterey Harbor Sunrise © Jeff Bleam
There is only one!
Shearwater Journeys
COMMENTS
Complete 2019 Schedule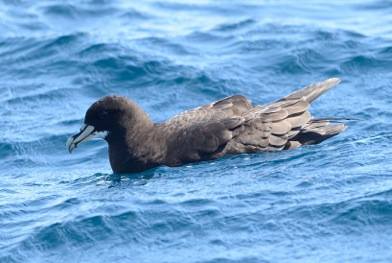 White-chinned Petrel © Doug Koch 2015
Our trips to the
Farallon Islands
have a 100% success rate in finding
Tufted Puffins
, and always sell out early. Departing from Sausalito on a very stable catamaran, we sail under the iconic Golden Gate Bridge for a unique perspective. Monterey Bay trips this past fall season were over the top with seabirds and lunge-feeding and breaching HUMPBACK WHALES.
Humpback Whale © Beth Hamel 2015
Every single day is completely different - just ask the folks who did 5 trips in a row from Monterey with us! Our friendly and knowledgable leaders are ready to enchance your day at sea! Join us!
Please check out our complete schedule of trips. Of course, I'll be on board every trip!