DEBI'S WELCOME
Welcome to Shearwater Journeys, the premier seabirding company in North America which has served generations of birders. From Eureka in northern California to San Diego, Shearwater Journeys has, at one time or another offered offshore pelagic trips along the entire coastline. Indeed, we were the pioneers of such amazing trips to the Davidson Seamount in the 1970's, now protected as part of the marine sanctuary. Many new seabird records for the State of California and North America have been discovered on our trips - more than any others, adding immensely to the avifauna data base. In recent years, we've concentrated our trips along the rich California Current, offering trips departing from Monterey, Half Moon Bay, and Sausalito. This is quite possibly the single most productive ocean area in the entire world.
Monterey Harbor Sunrise © Jeff Bleam
Forty years, thousands of trips, and tens of thousands of birders have joined our trips where we have observed hundreds of thousands, if not millions, of seabirds. There is no comparison. We have some 2X trips on offer for the coming fall season. Join the fun and exciting world of seabirds and marine mammals with Shearwater Journeys, the folks who have introduced generations of birders to this unique world.
There is only one Shearwater Journeys!
2015 COMMENTS
The year 2015 was one of the single most amazing years along the central coast of California. We observed a record 20 species of tubenoses: albatrossses, petrels, shearwaters, and storm-petrels! One of many highlights was a WHITE-CHINNED PETREL on the September 15th Half Moon Bay trip that flew into the wake and sat on the water for 45 minutes!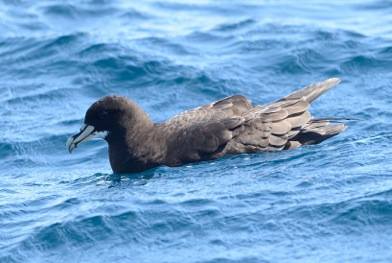 White-chinned Petrel © Doug Koch 2015
Our August 9th trip to the Farallon Islands not only saw scads of TUFTED PUFFINS, but also NORTHERN GANNET, BROWN BOOBY, and BLUE-FOOTED BOOBY! Our trips to the Farallon Islands have a 100% success rate in finding Tufted Puffins, and always sell out early. Departing from Sausalito on a very stable catamaran, we sail under the iconic Golden Gate Bridge for a unique perspective. Monterey Bay trips this past fall season were over the top with seabirds and lunge-feeding and breaching HUMPBACK WHALES.
Humpback Whale © Beth Hamel 2015
El Nino sent thousands of BLACK-VENTED SHEARWATERS to Monterey Bay and a handful of LEAST STORM-PETRELS. Every single day is completely different - just ask the folks who did 5 trips in a row from Monterey with us! Our friendly and knowledgable leaders are ready to enchance your day at sea! Join us!
Please check out our complete schedule of trips. Of course, I'll be on board every trip!
JOIN US
Sign up for our news and discounts!


Stay up-to-date with the Shearwater Journeys' email. You'll enjoy the latest updates to the website and qualify for trip discounts. Our list is never sold or shared with third parties.
LATEST BLOG POSTS